Catalogue contents for the exhibition Jocelyn Maughan: An Artist's Survey, 23 July – 4 September 2016
(See photos of the exhibition)
Foreword
Since Gosford Regional Gallery opened in April 2000, Jocelyn Maughan has been a constant supporter. She has regularly submitted artworks for the Gosford Art Prize and exhibited here with the Australian Watercolour Institute on many occasions.
In 2006 I curated Jocelyn's major solo exhibition From Patonga. The works in that show focused on the fishing industry of Patonga, documenting the unique setting and community spirit of this beautiful part of the Central Coast.
Jocelyn has given countless artist talks and demonstrations for the Gallery over the years More recently she has also been involved in sponsoring About Face, a summer portrait prize held especially for young people, in the Community Gallery.
We were very eager to hold a survey exhibition for Gosford Regional Gallery which demonstrated the breadth of Jocelyn's creative work and celebrated her achievements as a significant local artist.
This exhibition provides a glimpse of Jocelyn's considerable oeuvre, highlighting important early works, recurring themes and showcasing her accomplishment across a diversity of materials.
Tim Braham
Team Leader, Gosford Regional Gallery
Jocelyn Maughan
Having demonstrated a talent for drawing at a very early age, Jocelyn Maughan began the 5-year art diploma course at East Sydney Technical College ("the Tech") in 1954.
Maughan specialised in Fine Art Painting, which involved a major component of figure painting and drawing. Maughan was awarded the prestigious Robert Le Gay Brereton Prize for draughtsmanship, a prize she now supports for today's art students. Under the tuition of Tom Thompson, Maughan delighted in the transparent tempera technique, and her major diploma work was a mural, which for many years occupied a major wall at the art school. Maughan graduated with an Honours Diploma in 1958.
The following two years Maughan was offered part-time teaching work at the Tech, and also as junior art teacher at Abbotsleigh School. She found a delight in teaching and, at the age of 21, she was invited to join the staff at the Tech and complete a course of teacher training. Thus began a teaching career of 34 years.
In 1966 she founded the highly regarded Meadowbank College of TAFE art school and became Senior Head Teacher.
Along with her career as a teacher, Maughan married, brought up two sons and continued with her own art. She undertook many portrait commissions and was a finalist in the Archibald Prize for portraiture many times. She won the Portia Geach Memorial Award in 1975. Other awards include the Margaret Fesq Memorial Art Prize and the Kedumba Drawing Award. In 1983 the Australian Watercolour Institute elected Maughan as an exhibiting member and her paintings have been included annually, both in Australia and overseas. Maughan is also a Fellow of the Royal Art Society.
Maughan enjoyed teaching with a passion, as she believed she could clarify art education from a practical aspect. Many former students still keep in touch and speak of the valuable skills and knowledge acquired.
Observation and delineation
It is not only information that 'informs', but also how that information is structured. Through Jocelyn Maughan's figure drawing in particular one can see that the way visual information is structured is fundamental to her artistic development, and to many of the subjects that she undertakes.
Drawing the nude was a major part of art training up to the 1960s and Maughan found that she had a facility for capturing movement and rhythm. As a child she always took a sketchbook to regular family beach excursions and delighted in the semi-clothed figures.
Whether it is a lino block print or a tempera panel for a mural or a compositional demonstration piece, the energy of the work starts with a vigorous grisaille – generally transparent black oil paint on a slippery, non-absorbent ground. The paint is workable for about three hours and, with sensitive wiping out, dabbing, scumbling, scratching and re-delineating, she is able to achieve a full tonal range. The grisaille method, used in past times by Rubens and Van Dyck, entices broad and bold generalisations and juxtapositions.
This exhibition includes landscapes, nudes and figure compositions, many of which started life as a grisaille drawing. As the artists shifts from grisaille to watercolour, tempera or oil paint, subtle changes are made to the composition. While the subject often remains the same, Maughan takes advantage of the chosen final medium, such as the fluid puddles of wet-into-wet watercolour, or the dry hatching required by the tempera technique. (This transformation is a little like having the same poem read first by, say, a Scotsman and then by a French demoiselle.)
Frank Hinder, one of Maughan's mentors, who became a leader of Sydney's modernist movement, gave his followers the example of taking an idea through the gamut of media: pencil, watercolour, tempera, oil and even electric-powered luminous kinetics.
An even earlier influence Maughan proudly confesses was a delight in lettering, She says her aesthetics finds its origins in her early parallel career as a signwriter and also as a teacher of classical letter design.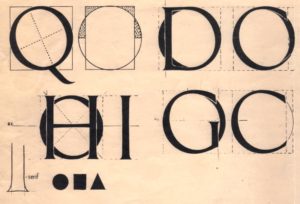 Another influence was a charismatic teacher, a New Zealand painter, illustrator and art critic, James (Jimmy) Cook. Cook had a way of simplifying the diversity of art history from the painter's point of view. He also attracted as art students returned servicemen from World War II, via the Commonwealth Reconstruction Training Scheme. Among these was Tom Thompson, who also became one of Maughan's influential teachers. Others were Guy Warren, Tony Tuckson and Lindsay Churchland, who were among the first wave of post-war modernists in Australia.
Maughan was a very youthful 15-year-old when she first went to full-time art school. She just loved to draw, and wandered wide-eyed into the new world of philosophy and aesthetics.
Even earlier than this, Maughan's list of influences were her parents: both had drawing skills that would be the envy of any trained diploma art student. Her mother, Kylie, attended the Malvern Art School, UK, under Principal Illingworth Varley, as a young person. Many of the precepts that Maughan still holds dear – such as 'Learning to draw is learning to see' and 'There is no edge on a rounded form; every line continues beyond your view' – originated from Varley's teaching. Both parents encouraged Maughan to pursue an art career, a decision she has never regretted.
Maughan has an extraordinary ability to work quickly if needed, and thus is able to capture and summarise movement or to capture a likeness in a portrait. This skill is also useful in following a moving object such as an animal in a paddock or an elephant at the circus.
So much does she enjoy this facility that she often waylays visitors or passers-by to persuade them to sit for a free portrait.
Maughan has not sought fame through the commercial gallery system, instead delighting in art for its own sake. Many years were devoted to teaching, as well as to domestic life. However her own art ran a parallel existence and, as in childhood, a sketchbook always accompanied family outings.
Jocelyn Maughan's good health and studio environment continues and expands her daily painting habits. Her greatest influence and inspiration in recent years has been her studio partner, artist Robin Norling.
List of works
1. Lookers and onlookers, Siena, oil sketch, 2013
2. Bird's eye view, oil sketch, 2013
3. Duomo, Siena, bird's eye view, watercolour, 2013
4. Archway, Siena, tempera on paper, 2013
5. Lookers and onlookers, tempera on paper, 2013
6. Fishermen of Patonga, tempera on gesso panel 2012
7. Patonga series, lino prints, 2014
8. Fishermen of Patonga, tempera on gesso panel, 2012
9. Collection of recent works, 2012-16
10. Fisherman Carl, grisaille oil on paper, 2008
11. The roots of time, watercolour, 1996
12. The Rock, pencil drawing, 2005
13. Sculpted tree, pencil drawing, 2006
14. Pine patterns, pencil drawing
15. Back Beach, grisaille oil on paper, 2010
16. Shell cascade, watercolour, 2014
17. Fractured reflections, watercolour
18. Central Railway, oil, 1997
19. The mill, watercolour, 2000
20. Circus friend, watercolour
21. A day in the paddock, pencil, 1993
22. Last day at the Show, pencil and watercolour, 1995,
23. Student life study, oil, 1957
24. Esther, oil on card, 1958
25. Jocelyn, self portrait age 17, oil on panel, 1956
26. Student life study, oil, 1957
27. Portrait of Gran, oil on panel, 1956
28. Workmen, just up the road, oil on card, 1955
29. Boots and all, watercolour, 2006
30. Street in Balmain, tempera on panel, 1957
31. Drawing for 'Street in Balmain', pen and wash, 1956
32. Dr John Yu, oil on canvas, 1997
33. Julie, oil on canvas, 2002
34. Chrissy, oil on canvas, 1995
35. Margaret, oil on canvas, 2002
36. Dr Brian Jarvie, oil on canvas, 2011
37. Robin, oil on canvas, 2011
38. Woman in Tibet, watercolour, 2005
39. Quick sketch from life, watercolour
40. Quick sketch from life, watercolour
41. Opera House series (5 works), pen, pencil & watercolour on paper, 1964